Millie and Yogi's story
Joe is brillian at what he does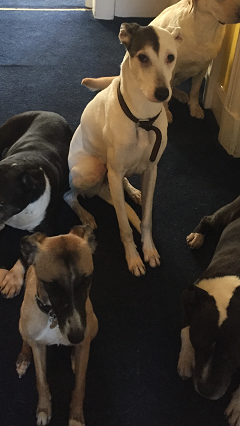 Gillian and Craig from Isle of Skye, Inner Hebrides - December 2016
Joe has been amazing with our 2 "unbalanced" pooches - he has transformed both their emotional and physical wellness over the period of 4 weeks! Our lurcher cross (9 yr old-ish rescue) had full on separation anxiety - very destructive including self harming - we simply couldn't leave him for any length of time! Our small whippet-collie cross (3 yr old) ran on overdrive constantly and therefore spent all her time bullying the lurcher and was becoming more and more fear aggressive on walks.
Joe sent us photo/video updates every single day, so we were never worried about them while we were away on holiday! Joe asked whether we were okay with him using e-collars (it was our choice) and after he demonstrated them (on us!!) and explained the methodology behind them, we were confident they were the right way forward… and they were!
Both dogs are walking on a loose lead and no longer react fearfully/negatively to other dogs (which is a blessing when you have 2 sight hounds that can see a bird, never mind a dog, from a mile away!!). Off lead is still a work in progress (for us!), but they are leaps and bounds better than they were and we feel more confident on a re-call, largely due to the e-collars! I must stress, our dogs have not had any negative response to the collars - they happily have them put on before their walk and they are the same dogs (full of character!) that we gave to Joe back in November! It has definitely not made them nervous or depressed. To be honest, the collars are not "used" while on-lead anymore as they're totally transformed in this respect, but it's a safety net in case a loose dog surprises them or when they're off-lead and something unexpected happens, which means we feel calmer and more confident while walking them, which in turn gives them a greater sense of security. We used to spend walks fearfully anticipating all the dogs they might see/meet, which must have had an effect on their emotional state - now we're ALL calm!
Even better, is the change with the lurcher… if we're staying up too late for him, he simply takes himself off to his bed… at the other end of the house, by himself! He would never have done this previously - he used to follow us round the house and never let us out of his sight! They now have their own wee bedroom (out of ours!) with their cages in it and they happily take themselves to bed - sleeping in a different room to us has probably helped reduce the separation anxiety too. We can now go out for several hours at a time and when we come back his bed is still in one piece, he hasn't soiled himself and his nose is not rubbed off and bleeding - we can't thank Joe enough!
Oh and the unanticipated benefit of time spent with Joe, is their diet has been changed and their health has improved noticeably - they're on cooked mince/veg for breakfast (made in batches I hasten to add - not a daily chore!), raw egg & kefir for lunch and then raw duck necks at tea time - their teeth have lost all the plaque that was on them (especially the older one!), they've stopped moulting (a blessing for the white one!) and their noses are cold and wet! They hardly drink any water, as they're getting all their fluids from their food now and don't require "snacks"!
What can we say, other than Joe is brilliant at what he does and we can't thank him enough. I know if our dogs could thank him they would!
Millie and Yogi walking in the town centre
Building Millie's confidence playing ball
Millie ignoring a child