Mutts Manners Dog Behaviour Testimonials
***All testimonials can be verified by the people who wrote them***
Since meeting Joe our dog's lives just became GREAT.
Tom and Elaine from Elderslie, Renfrewshire
We have 2 large GSD's Storm 43 Kilos & Shadow 50 Kilos. Our biggest worry is they would hurt a smaller dog. Everyone should be able to enjoy their dog without the fear of another dog having a go.
When out with me they pulled a lot on their leads but I am strong enough to control them. They barked and made for cyclists, joggers, cats other dogs in fact just about anything that moved. My wife is a good bit smaller than me and struggled a lot for control. So much so that she would take them miles away in the car every day to where there were no other dogs, to walk them, and never ever let them run free. Always on the look out for other dog walkers, and taking a wide berth to avoid them.
Joe is brilliant at what he does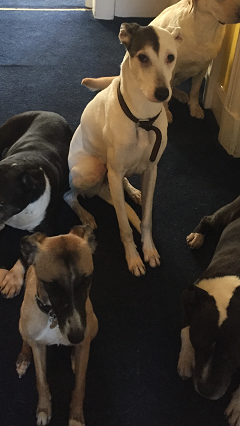 Gillian and Craig from Isle of Skye, Inner Hebrides
Joe has been amazing with our 2 "unbalanced" pooches - he has transformed both their emotional and physical wellness over the period of 4 weeks! Our lurcher cross (9 yr old-ish rescue) had full on separation anxiety - very destructive including self harming - we simply couldn't leave him for any length of time! Our small whippet-collie cross (3 yr old) ran on overdrive constantly and therefore spent all her time bullying the lurcher and was becoming more and more fear aggressive on walks.
Thank you Joe for saving our dog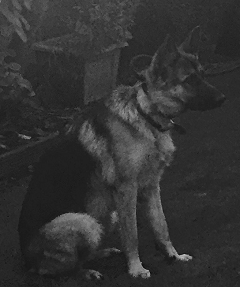 Tilda from Wishaw, Lanarkshire
Where do I start? We contacted Joe at Mutts Manners after we had tried everything to help our GSD, Luna. She's our fourth GSD so we're used to the breed but very soon after bringing her home as a puppy we knew she was 'special' and not in a good way.
Luna was another extreme behaviour case I worked with. She was probably the most anxious dog I've come across.
*****Read Luna's update 6 months later*****
When Luna met Denver
I had the oppentunity in my week later follow-up visit with Denver, which I do with all my board & train clients, to take Luna along with me. This was two powerful German Shepherds who both came to me for, amongts other things, dog aggression. You can see how much they enjoyed each other company.
could not thank Joe enough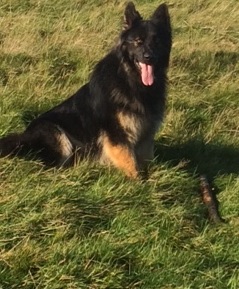 Gillian from Howwood, Renfrewshire
This is Denver he is 2, I got him as 40th birthday present from my mum and dad, and what a surprise it was, not long after I got him my mum became unwell, he got a very close bond with my dad who he looks up to. I was looking for training for Denver when I came across mutt matters, I contacted Joe and explained Denver was very dominant, pulling on the lead, we were using a halti, barking a lot and barking at people going passed the house, jumping up at the window, could not get people in the house. Joe came to see us we had to put Denver in the kitchen until he calmed down, Joe said bring him out he was still going mad, he calmed down eventually. Joe was explaining dog behaviour and how lead walking is very important. Joe said he was spoiled and he was getting his own way, and we were just letting he get away with it. Joe came out a few times and mum and dad were going on holiday Joe suggests doing board/training. Joe said he will calm him down but it is up to us when we get him back.
Denver went to Joe for 9 days and was sending messages and videos of all the training he was doing with Denver, it was so nice to see. When he came back we could not believe how calm he was. Lead walking is going great now and no halti any more. He is not barking as much, we are still working with him but he is doing really well and we could not thank Joe enough for all work he has done.
Denver in an off-leash place command.
"Joe's way". It's the best way and it works.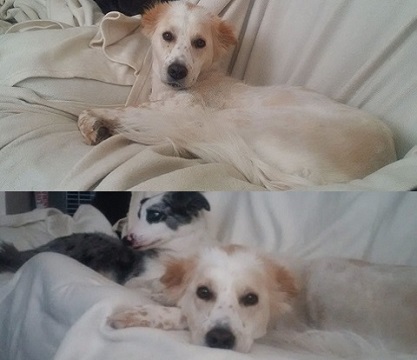 Mairi from Balerno, Edinburgh
Fern is a Canaan Dog who was rescued off the streets of Jordan, in the middle east, as an 8m/o feral dog in Aug 2013. She was extremely dog aggressive and would redirect this aggression to the handler. And she had many other behavioural issues way beyond just aggression.
Fern was such a special and unique case I wanted her story told in full, in the words of her owner.
Can't thank Joe enough
Jane & Ian from Helensburgh, Argyll and Bute
Can't thank Joe enough for coming over to meet Jessie our Border Collie.
In 24 hours we could see a difference in her behaviour and how she was walking on the lead. Lots of great advice and helpful techniques that we can use daily to train her and enjoy having her.
Thanks Joe.
Thank you Joe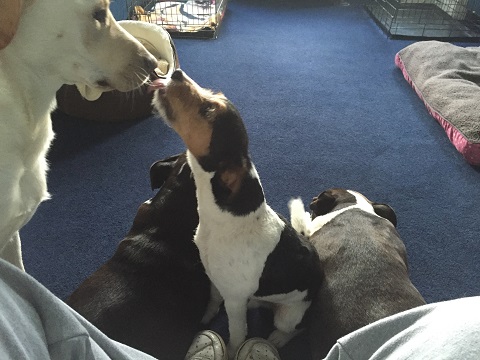 Fiona & Malcolm from Glaasgow
We have two Jack Russel Terriers, Poppy, a female who is 9 and Buddy a male who is 5, our oldest dog Poppy has always been very placid and Buddy was always the more dominant and we just assumed he was just a dominant alpha dog. When he was about 2 years old he started displaying more assertive tendencies along with nervousness and at times was quite aggressive towards other dogs, this seemed to progress slowly over the next two years until it reached the point where he was unable to be let off the lead, struggled to remain calm when around people and other dogs and his recall was very poor. We initially contacted two different dog behaviourists and their solutions and advice were about managing his behaviour rather than changing his behaviour. In one case it was suggested that we keep him on the lead and with a muzzle on, in the other it was constant positive rewards and no consequences for bad behaviour, although there was minimal change in Buddy, his aggressive behaviour continued. About a year ago it reached a climax when he started to become aggressive when he was reprimanded and on occasion if he was clapped when lying down. We also realised that he was a really unhappy dog as he would hide from us when we wanted to take him out for a walk and could not get him out the door, he also was extremely reactive to noise and would become quite frantic and unable to relax at all in the house.
We were referred to Joe through a friend who works with him in his Dog rescue work at Underheugh Ark. Things changed quickly, we had a very positive experience as his reassuring manner and no nonsense approach was exactly what we needed. Joe spent time with us in our home and then took Buddy to stay with him for a week. Joe sent us regular updates on how Buddy was doing along with photos of Buddy and his pack. When Buddy came home, Joe spent a lot of time with us and as we had suspected it was more about training us than Buddy. He gave us lots of practical advice that we were able to put in place straight away and was always at the end of the phone and e-mail when we had questions. Over the next few months, Buddy continued to progress and his happy demeanour was returning.
Buddy went back to Joe for another week about 4 months later, this was a refresher week for both Buddy and us. Thanks to Joe, we now have a little dog who can be let off the lead, is able to relax and is generally a lot happier in himself. Our own attitudes have changed and although we still get anxious in certain situations with Buddy we are trying to focus on what Joe has taught us and remain in a calm leadership role when walking Buddy. We are both very appreciative of Joe's help and we know that he will continue to be our go to guy in Buddy's continued training! Thank you Joe! We wouldn't hesitate to recommend Joe to anyone who has a pet with any behavioural problems large or small.
Simply the best
Peter & Eleanor from Linwood, Renfrewshire
We have a 7year old Yorkshire terrier who had a lot of behavior problems that were getting out of control. We were at our wits end with Benji. When the front door went or the postman came he went into a frenzy of barking and very bad aggression and we could only open the door when he was locked in a bedroom or he would have attacked any visitors that we had. It was a very stressful time for us and Benji . We contacted Joe at Mutt Manners to see if he could help and he arranged to come and visit us to assess the situation. WhenJJoe came we put Benji in the room as he was in a right frenzy so Joe said right let him out so I can meet Benji and he made a bee line for Joe barking and being very aggressive we had to put him out of the room to speak he was so loud. Joe recommended him[Benji]to go and board with him for a week and he would bring us back a different dog we didn't think that would be possible. When Joe came to get Benji it took 15 minutes to try and get his lead on him as he was in such a bad frenzy with Joe being in the house, I just couldn't see how he was going to change. Benji was also very aggressive out walking toward other dogs and people and when Joe said he had 2 staffies we were apprehensive incase Benji tried to attack them, but Joe reassured us that his dogs would be ok and so would Benji.
Within an hour of Joe taking Benji he emailed us a picture of him lying close to his 2 dogs we just couldn't believe it as Benji to us just didnt seem to like other dogs. Joe was very good with keeping us up to date with Benjis progress which was very reassuring to us and we just couldn't believe how well he was doing, Joe told us that Benjis problems were caused by us as we were very protective of Benji as our last yorkie who was only 11 month old had been attacked and killed by pit bull terrier when we had it out on a lead. Joe explained to us how to walk with benji and be more calm when passing other dogs and people, Benji was picking up on our fear and he was being over protective towards us. When Joe brought Benji back he certainly was a different dog he was so much calmer and well behaved . When the door goes now we have control over Benji to get him to remain on his cushion and stay there when we answer the door there is no more fierce barking going on, he is so well behaved. Benji has now realised that we are in charge now and not him . We haven't had to put Benji into the bedroom once we just cant thank Joe for all the help he has gave us even his after care is second to none. Ii would really recommend Joe for any problems that you have with your dog as he is simply the best. Joe has admitted to us that Benji was the most aggressive dog he has ever dealt with and we are all utterly amazed how well behaved Benji is now and it's all thanks to Joe.
Can't thank Joe enough
Nikki from Paisley, Renfrewshire
When we first got Kai he was extremely dog aggressive, pulling, growling, barking and jumping around trying to get to dogs and obviously you can't have this so we got dog behaviourists out and nothing seemed to help. He still wanted to fight with every dog he seen and we were beginning to feel like we were stuck with a dog we couldn't enjoy as even walking him for 5 minutes became a horrible chore.
Then I found Joe and booked him for his 5 session block that was all just 5!!! And now we can walk him for miles we even took him to a dog show where there were literally hundreds of dogs and you would never of known he was ever aggressive towards dogs! Can't thank Joe enough and he also helped my mum as Kai had created a special bound with her when she was very unwell so every time she left the house he would go off his head barking, crying and pacing, but now thanks to Joe my mum can now leave without the barking this is still a working progress as it isn't something that will be fixed over night but we are on the right track now!
Joe is a revelation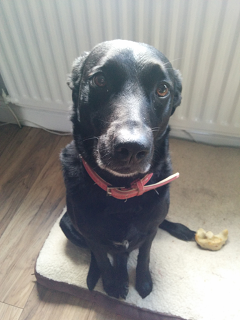 Glenn & Tracey from Erskine, Renfrewshire
Prior to meeting Joe our dog Mika was a nervous over energetic dog with tendency to be unpredictable with aggression problems. This was leading to family arguments and a feeling of untrust towards Mika and a consideration to rehome Mika as we felt we were losing control of her.
I recently got in touch with Joe who took Mika for a week and retrained Mika's mindset into a more submissive calm dog, which I would have been more than happy with when Mika came back. But I got much more than that. We got a dog that was reset into a calm submissive dog, which meant Mika was so much easier to control. Joe took time to train her mental state for us as well as that took time with ourselves and gave us guidance in simple terms but with great results. Joe is a revelation not just with Mika but in our own ways he made us realise where we went wrong and how to correct this and put it in easy steps, but with big results. He also gave us great advice on feeding Mika and a great wholesome meal recipe for her that works out cheaper than kibble feed she had been fed until now and we are now enjoying a great balanced dog with no aggression, calm and obedient and this is just after a week. There is a couple of minor issues to work on but we are on right path and every day Mika is becoming the great dog we knew we had but got lost along the way. We can't thank Joe enough for his time and genuine extra mile he put in with Mika and how he taught us the correct way to deal with issues before they happen. In short if you have any problems with your dog or in our case a few you should have Joe top of your list you won't regret it we haven't. Thanks again Joe couldn't have done it without you, 10 out of 10.
I can't find the words to express clearly my gratitude to Joe for the help he has given to me and Poppy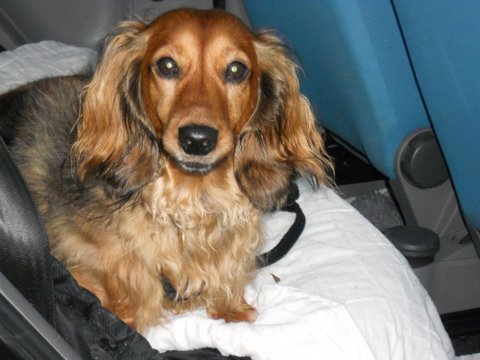 Margaret from Johnstone, Renfrewshire
I can't find the words to express clearly my gratitude to Joe for the help he has given to me and Poppy-dog. I had spent three years in despair and frustration at not knowing how to deal with Poppy's fear of everyone and everything. Walks were a nightmare of anxiety for both of us with Poppy barking constantly and nipping other dogs if they came too close. I eventually came across Joe and we spent one session together and I learned the solution to her problems; it was so simple but Joe, in two hours and in a calm and empathetic manner, gave me the skills and confidence to work with Poppy. In just under a week I had a calmer more contented dog who doesn't bark at everyone and everything, is easier to handle and is well on the way to losing her fears. He has trained us both and we are so much happier and he is there for back-up and support if I ever need it. I would recommend him wholeheartedly to anyone who has behavioural issues with their dog. Thank You Joe.
I cannot recommend Joe from Mutts Manners highly enough, he has been inspirational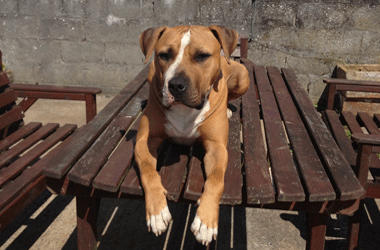 Elaine from Saltcoats, Ayrshire
I cannot recommend Joe from Mutts Manners highly enough, he has been inspirational. Joe came to work with my big boy Bob in March of this year - Bob is a 4 year old Mastiff/Staffie X and a big boy. He pulls terribly on the lead and lunges at cars, bikes, tractors etc - this makes it difficult to have a pleasant walk with him as I am always nervous- it was getting to the stage that I dreaded going a walk and tried to go when I knew the roads would be quieter. Joe taught me to walk him to heel in an hour and gave me homework to do to keep up the training - it wasn't easy but we put the work in and it's now a pleasure to walk my handsome big boy. Thanks Joe for making family life that little bit easier.
I was surprised at how quickly Joe dealt with this problem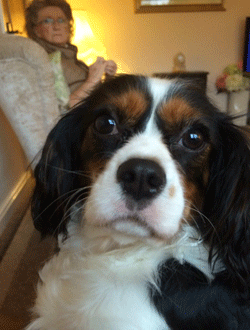 Helen & Jimmy from Irvine, Ayrshire
We got in touch with Joe at Mutts Manners because our 1 year old King Charles Spaniel Tally was constantly chasing her tail. I was surprised at how quickly Joe dealt with this problem. He also explained to me why Tally did this and how to stop it before it starts - she is a far more content dog now. I would not hesitate to recommend Joe, his advice and support was invaluable. Thank you so much Joe love Helen and Tally.
Joe is not only a dog behaviourist, but also a people expert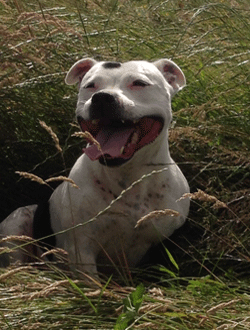 Ross from Kilwinning, Ayrshire
Joe is not only a dog behaviourist, but also a people expert. He is very calm in his approach and made me feel at ease straight away. My wee Staffie Beryl (a rescue who didn't have the best start) became very anxious out on walks and started to go for other dogs. Within minutes of joe meeting Beryl he had her sitting calmly to get her collar on then walking to heel - amazing to watch. He advised me that the behaviours were starting in the house and showed me what the routine should be every time before we go out. Beryl's progress has been fantastic but the work is ongoing and it's great to know that joe is at the other end of a phone if I need him. Not only has this made it easier for me to walk Beryl but it has also made her less stressed...result!
Joe showed me how to see the world through my dog eyes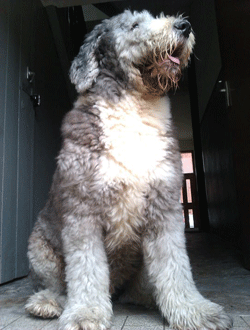 Richard from Glasgow
Joe showed me how to see the world through my dog eyes and once I had this knowledge it made sense as to why I was recently having behaviour problems with Alfie. Alfie is a very laid back friendly 8 year old Old English Sheepdog, but had recently started bullying some dogs when out on walks, off the lead, and he also started pulling really badly on the lead to the extent that I was getting callases on my hands. Joe explained to me that I did not have an aggressive dog and a proper excersice regime was needed for Alfie as he was basically bored and rebelling. Even though I come home at lunch time to let him out for the toilet and spent most nights sitting in with him this was not enough. He explained Alfie is from an intelligent working dog breed and needs to be mentally and physically fulfilled. So he setup an excersice regime for me to follow and also showed me how to walk Alfie properly on the lead so that I could enjoy walking Alfie. Alfie is now back to being the friendly laid back guy that he used to be. Thanks Joe.